About the Artist
Charles Foster-Hall was born in London, with his early years spent in and around Stratford on Avon.
While studying microbiology and molecular genetics at Bristol University he worked on a research project isolating the DNA in genes that coded for antibiotic resistance in bacteria.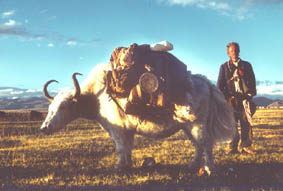 After receiving his degree he left the confines of the laboratory to take up painting full time, beginning with a walking tour of Northern France in the company of a traveling puppeteer and then on to Tibet in the company of a yak. After circumnavigating Mount Kailash , where watercolour paint would freeze on the paper, his travels took him via Eastern Turkistan and China to Japan . Here he settled in Kyoto to study the traditional Japanese Noh Theatre, performing with the Kanze troupe in mountain shrines, Buddhist temples and on make-shift stages lashed to boats in the river at Arashiyama.
Returning to Paris, he continued painting and ran a print business, selling work by French artists in England and English artists in France , and both to Japan. At about this time he acquired a black London taxi which he used as a mobile studio revisiting the France of his earlier walking tours.
Moving across the Atlantic to New York in 1997, he worked in the studio of New York artist Jeff Koons and received several major commissions both private and public. He also represented a UK based innovations company that was developing self-heating beverage cans.
In 2005 he returned to London where he organised several group art projects, including the Sussex Mural project, and for the Oxford Food Symposium two group art projects, the most recent, in 2008, being the construction of vegetable sculptures inspired by the Italian artist Giuseppe Arcimboldo. Participants included the chef Raymond Blanc and the event was filmed and commentated by art historian Andrew Graham-Dixon.
Revisiting his scientific background, he wrote a paper about the effects of smell on behaviour, published under the title "Smell and Morality in the Dining Environment" in the Proceedings of the Oxford Symposium on Food and Cookery 2007.
In July 2010 he was invited by the Yemeni Tourism Ministry to Sana'a to paint for 3 week along with 7 other European artists in the context of the Sana'a Summer Festival. Subsequently 7 of the artist exhibited their Yemeni work at the Institut du Monde Arabe in Paris in February 2011 and at the Royal Geographical Society in London in June 2011.
He continues to paint and travels whenever possible.
Selected Solo shows
Toh Gen Doh, Kyoto, Japan, 1988 
Planet Blue Kobe, Japan 1990 
Art Stadium Kyoto, Japan 1992 
Proctor and Gamble CorporateHeadquarters, Kobe, Japan 1993 
Ingo Fincke Gallery London, UK 1993 and annually 
The British Council Amman, Jordan 1991 
The British Council Beirut, Lebanon 1997
Merrill Lynch London, UK 1997
Diesel Gallery , New York , 2003 
Selected Group shows
Gale Gates Gallery, "Size Matters" Brooklyn , NY , 1999
Pacifico Gallery, "Omens of Millennium" New York , 2000
Open Space Gallery, "The Crayon Show" Allentown , PA 2000
Michael Ingbar Gallery, "Skyline Show" New York , NY 2001
Diesel Gallery, "Self Portrait Show" New York 2004
Royal Watercolour Society, "21 st Century Watercolours" Bankside Gallery, London 2005, 2006 and 2010
Hang-Ups Gallery, "Around the Wood", London 2007 
Queens Elm Gallery, London, 2009
Institut du Monde Arabe, 7 Artists in Yemen, Paris 2011
                                                                      Royal Geographical Society, 7 Artists in Yemen, London 2011